About
Photographer's Statement
Photography is more than a hobby to me. I chose it because it offers a perfect way to unite my interests in the scientific and artistic world. Few other forms of art are able to incorporate physics and geometry so well.
It is easy to recognize that simplicity, shape and geometry are a consistent theme in my images. Intentional focusing and cutting out and presenting parts of subjects seen on a daily basis are frequently integrated into my works. I instinctively search for abstract in concrete and challenge myself to extract the "extras" out of the "ordinary."
After years of taking random pictures, I decided to take three black and white courses at the "Pittsburgh Filmmakers" in Pittsburgh, Pennsylvania. These courses taught the technical aspects of photography and gave me insight into my style and who I was. More importantly, I discovered that photography is the medium that can successfully transfer my way of viewing the world into the mind of someone else.
I moved to Albuquerque, New Mexico in 2004 and joined a very active and supportive photography club. The rich and diverse environment gave me a fantastic opportunity to continue to develop my artistic style.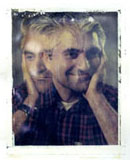 In 2007 I moved to Anchorage, Alaska, one of the most astonishing places I have ever encountered. The natural beauty, unique light and the ubiquity of professional photographers are just a few reasons why I feel very lucky to be here. I look forward to evolving further through exploration into unknown territory.
Javid Kamali - JaKa